This article first appeared on Champion Bets. Read more at https://www.championbets.com.au/featured/avoid-tote-betting-2/
*****
Why Its Time To Turf The Home Totes: Part Two
With an increasing number of price choices available when betting online, the home tote is being left behind in favour of some juicier international options.
By Mark Haywood. Published January 31 2018 for championbets.com.au
Last week we took a look at all the different tote options available to punters, and what the best options are to use for each type of racing.
We also highlighted a couple of alternatives – Betfair's Starting Price, and TopBetta's GOAT SP.
While products like 'Best Tote / SP' are derived from the traditional Australian totes, the Betfair and TopBetta products are separate markets altogether. So which is best to use?
To try to get an idea, we took a decent sample of data from the most popular racing in Australia; we looked at all metro racing in Victoria and New South Wales since January 1st. This encompassed 19 meetings (10 in New South Wales and 9 in Victoria):
Mon 01-Jan-18 – Flemington
Mon 01-Jan-18 – Randwick
Wed 03-Jan-18 – Sandown
Fri 05-Jan-18 – Canterbury
Sat 06-Jan-18 – Randwick
Sun 07-Jan-18 – Caulfield
Wed 10-Jan-18 – Sandown
Wed 10-Jan-18 – Canterbury
Sat 13-Jan-18 – Flemington
Sat 13-Jan-18 – Randwick
Wed 17-Jan-18 – Caulfield
Wed 17-Jan-18 – Warwick Farm
Fri 19-Jan-18 – Canterbury
Sat 20-Jan-18 – Flemington
Sat 20-Jan-18 – Randwick
Fri 26-Jan-18 – Moonee Valley
Fri 26-Jan-18 – Warwick Farm
Sat 27-Jan-18 – Caulfield
Sat 27-Jan-18 – Rosehill
The sample totals 158 races: 82 in New South Wales and 76 in Victoria. We looked at the following tote products and compared the prices paid on the winners in each race:
NSWTAB
SuperTAB (Vic tote)
UBET tote
Best Tote / SP – tote product widely available with corporate bookmakers
Betfair SP – taking into account commission rates that are paid on profits (10% for NSW thoroughbred racing, 6% for Victoria).
GOAT SP – this is TopBetta's derivative of The Global Tote. It pays at the higher of Global Tote or official SP.
Top Fluc – while not a tote product in the truest sense, the data was available and the bet type is widely available corporate bookies (provided you bet more than 30 minutes before the race).
We assumed a $10 win bet on each winner, and compared the returns. This results were as follows:
So there you have it: in both states, TopBetta's GOAT SP reigns supreme. It delivered significantly better profits than Betfair SP, which in turn was superior to both Top Fluc and Best Tote / SP.
Could this really be the case? Of course.
Both GOAT SP and Betfair SP are low takeout / low commission products; the operators take less, leaving more in the pool for the punters.
One thing that's noticeable however is how much large dividends differ across the products. The odd race where a rank outsider salutes can make a huge difference to the numbers. In our sample, consider these races: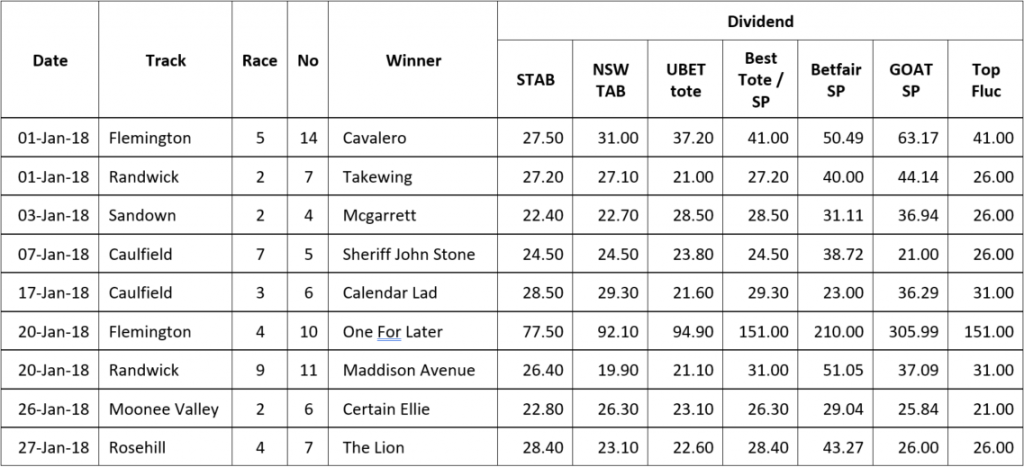 There's nine races where outsiders won. Looking at these, it's pretty clear that both Betfair SP and the Global Tote can produce some extremely large numbers in these instances that can skew the overall figures when using level staking (as we are in this example).
Given these are rare instances when not many punters get the winner (hence the prices!), we re-ran the same analysis, but excluding these ten races. Take two: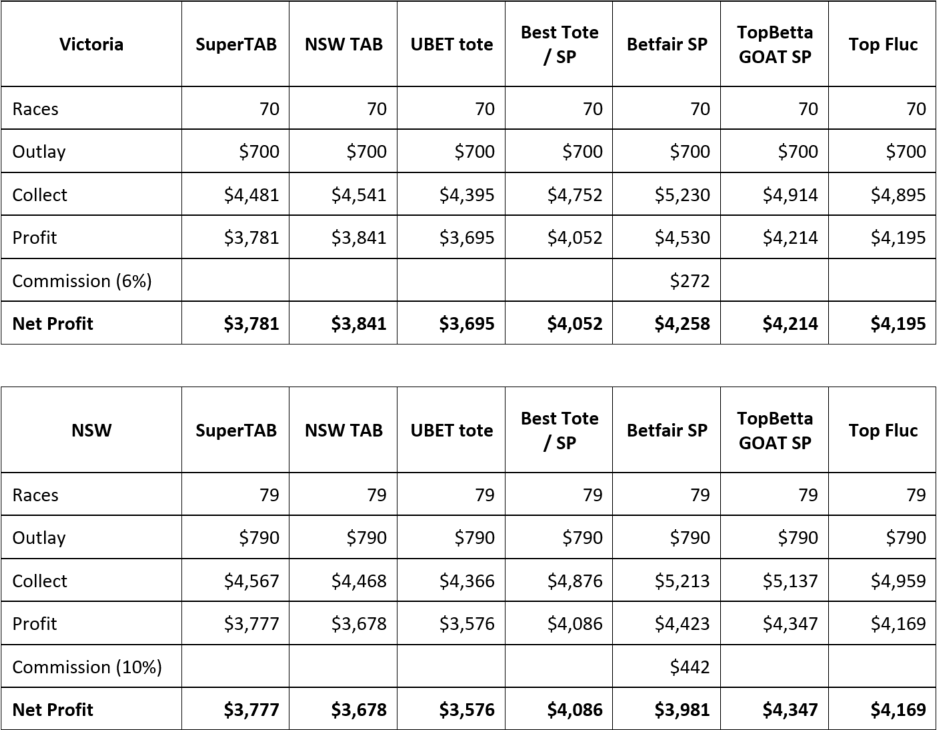 The outcome is obviously a much a closer thing:
In Victoria, Betfair SP actually just pips GOAT SP as the more profitable – though it's very close
Both are still well superior to Best Tote / SP
The difference in NSW is the 10% commission rate on Betfair SP, compared to 6% in Victoria. This higher charge is a result of the higher race field fees that Racing NSW charge on their racing. It means GOAT SP is a far better proposition than Betfair SP, which also lags behind ever Best Tote / SP and Top Fluc… the higher fees have really damaged the Betfair exchange product when it comes to NSW.
All-in-all? Based on our sample, the GOAT SP is the way to go. It's still a developing product, but at the moment it is King of the Totes.